Check out our video walk-through of the browse and search process! If you prefer text, below the video is a detailed explanation of how to search for materials through our website.
If you have trouble loading this video, please try viewing on YouTube.
On Addgene's website, click on the "Search" text:

 This will open the search bar:
You can type in the name or ID of a gene or plasmid you are searching for in this box and then either click the magnifying glass or push enter to start the search (for example- try a search for cas9).
The Search Results page will show any Addgene Guides, Resources, Kits, or Plasmids available for your gene. You can sort the results on this page a few ways. First, on the right under "Sort", you can choose to sort by Relevance (how closely the results match your search term) or by Popularity (how many times scientists have requested the plasmid).

You can further narrow your search by selecting filters available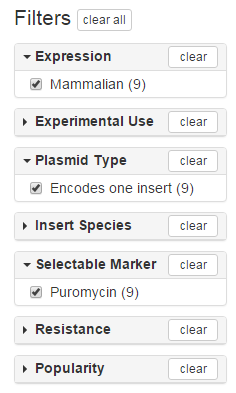 on the right-hand side of the Search Results page.
For example, if you are looking for a plasmid that contains your gene, is used for mammalian expression, and has Puromycin selection:
Select "Mammalian" under Expression
Select "encodes one insert" under Plasmid Type
Select "Puromycin" under Selectable Marker
You can additionally narrow the search based on Experimental Use, Insert Species, Antibiotic Resistance, and Popularity.
If you still are not finding results using the "Search for Plasmids" box, you can also perform a "Full Site Search", located on the top right of the Search Results page.

By clicking the magnifying glass under the "Full Site Search" box, all Addgene web content will be searched. Additional useful links can be found this way, including Plasmids 101 and blog articles written about your gene of interest.
You can also perform "Search for plasmids" and "Full Site Search" using the name of a PI or lab, an Addgene plasmid number, or a kit name.
If you are searching for a plasmid from a specific publication or with a specific Tag (such as GFP), you can click on the link "Show/hide additional search fields" under the "Search for Plasmids" box.

This link will expand the information you can search for, including PI, Tags, Articles, and Vector Backbone.